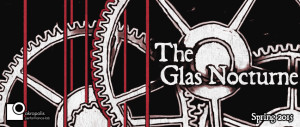 It's official: The Glas Nocturne will open May 15!
More details to follow soon… but not as many as usual. We're using a speakeasy production model.
Glas Nocturne is an invitation-only event. And the date, time, and location of each showing will only be revealed to invitees.
A donation-only event, no tickets will be sold.
Want an invitation? Watch for details about how to request yours!
#GlasNocturne