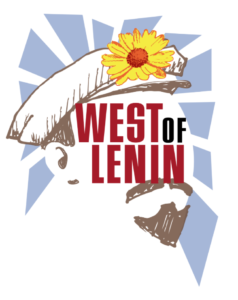 If you've been watching for announcements about our upcoming production of Dostoevsky's Crime and Punishment, please note our new venue:  West of Lenin!
We will perform Crime + Punishment: a psychological account of a certain crime at that outstanding Fremont venue January 5-13.
This production marks the first time since 2004 that APL has elected to produce a full-scale work in a traditional theatre space.
Our work has always been developed with sensitivity to the relationship between the performance art and the specific architecture it inhabits. We call our work "site responsive" – designed to interact organically and flexibly within each unique space used.
Over the years, we have produced in a Beacon Hill historical estate house, the Volunteer Park Water Tower, a church sanctuary in Ballard, the Swinomish Indian Tribal Community lodge, and the basement of our own home. Although it's been awhile, we also have produced in conventional theatre venues such as On the Boards Studio, Capitol Hill Arts Center (CHAC), Freehold and Seattle Chamber Theatre (when the Oddfellows Building was an arts space), Theatre4, and The Balch Street Theatre.
Wherever we perform, rest assured the artistic principles, vision, and commitment to austerity and intimacy that define our work as uniquely APL will continue to guide us without compromise.

Crime + Punishment: a psychological account of a certain crime, formerly referred to under the working title 730 Steps, is developing into a highly theatrical piece. A small, invitation-only rendering in July yielded great feedback for our fine tuning.
We can't wait for you to experience the finished piece at West of Lenin's beautiful theatre!

Ink us in for a date: January 5-13 at

West of Lenin, 203 N 36th St, Seattle!
Ticket info coming soon.