THE PLAY
Inspired by a true story, Foreign Bodies is the story of Adam, a member of Poland's Solidarność (Solidarity) movement wanting freedom from Communist control. He's the kind of guy his friends admire, but they are unaware of his personal gender identity struggles. After the political crisis of 1989, Adam wants his own freedom to be himself and has a sex change operation to become Ewa. Ewa's subsequent struggle with the poverty, solitude and social rejection in a new capitalist country sheds new light on the cost of freedom. This controversial play about Polish martyrdom —  which won the 2010 Gdynia Drama Award (Poland's top drama prize) — is a powerful and compelling treatment of notions of identity, gender equality and society's attitude towards those that are different.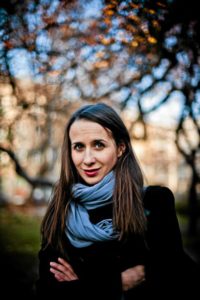 THE PLAYWRIGHT
A Polish playwright and the youngest recipient of the prestigious Gdynia Drama Award ever, Julia Holewińska was deeply influenced by the work of Krzysztof Warlikowski and Kristian Lupa. Her 8 major plays are produced in Poland and Abroad. She has said that she strives to write work that is simultaneously serious and comical. Read more about Julia Holewińska here.
CAST – TBA
ABOUT THE SUNDAY SALONS
APL casts actors to read classic and/or provocative plays we want to engage as thinking artists but aren't likely to bring to stage in full production. Anyone interested in the play or its context can join us. Each Salon is a unique, dynamic assembly of artists, intellectuals, provocateurs, friends, and family. We read, drink, eat, and — with minimal moderation — let discussion go where it will. And if you'd like to bring a piece of music to perform during the evening, feel free to do so!
FOOD
Salons are potluck. Please bring a dish and/or drink to share. Theme according to the play… or not. And arrive early enough to enjoy the bounty!
FOR YOUR COMFORT
Seating is ample, but feel free to bring a cushion if you prefer the (hardwood) floor.
ACCESSIBILITY
Our location has a lot of stairs to navigate (15 just to enter) and, unfortunately, no current access options to avoid them.
SCHEDULE
4:00pm Arrivals. Mingling and food/drinks.
5:00pm Reading begins, to be followed by discussion. (Note, this is an earlier start time than usual, as the play is long!)
10:00pm End time is a best guess. Leave when you need to; we allow the discussion to run its course.
NOTE TO OUR ACTORS WHO ARE READING
We will distribute the play digitally. Please bring your own printed copy or a device to view the file. Wifi onsite.