Immediately establishing itself as a production based upon strong physical movement, it rises high above virtually any other production of Chekhov or indeed anything else in Seattle.
~ Omar Willey, Seattle Star, Review: "Burying the British: Uncle Vanya"
"Those people who live 100 years from now … will they speak well of us?"
APL presents Anton Chekhov's Uncle Vanya, in the world premiere of a new translation by Zhenya Lavy, at the historic Garden House on Beacon Hill.   Continue…
Residents of a country estate find their lives upended when their ailing, estranged patriarch and his beguiling, young wife retire from the city to live among them. Provoked by the interlopers' entitlement and malaise, they confront disillusionment, environmental decay, unrequited love, and deferred dreams. Haunted by the past, present, and future, these unhappy souls wait, talk, drink, philosophize, and reach—with increasing desperation—for illusory fulfillment. Simultaneously tragic and comic, sympathetic and absurd, Uncle Vanya probes at timeless, universal questions of the human soul to reveal what is difficult and true.
As in all APL productions, the text, song, and action are inextricably linked. Only at the union of these elements is the story fully manifest. Striking physicality and saturated, complex vocal music are hallmarks of any APL event. Directed by Joseph Lavy, and featuring the rich a cappella polyphony of Russian folk music arranged and directed by Zhenya Lavy, Uncle Vanya reasserts APL's powerful artistic range.
REVIEWS: [catlist name="Review+Uncle Vanya" orderby=date order=dec]

WHERE: The Garden House – Washington State Federation of Garden Clubs' Headquarters on Beacon Hill, 2336 15th Ave S, Seattle WA 98144
WHEN: March 21 – April 5, 2014 The production runs 2:20, with 1 intermission. Doors open 30 minutes before curtain.
SPECIALS:
PWYC is March 22, 4 p.m.
Industry Night: March 27, 8 p.m.
Actor Benefit Performance is March 27, 8 p.m. – all revenue goes directly to performer stipends
TICKETS: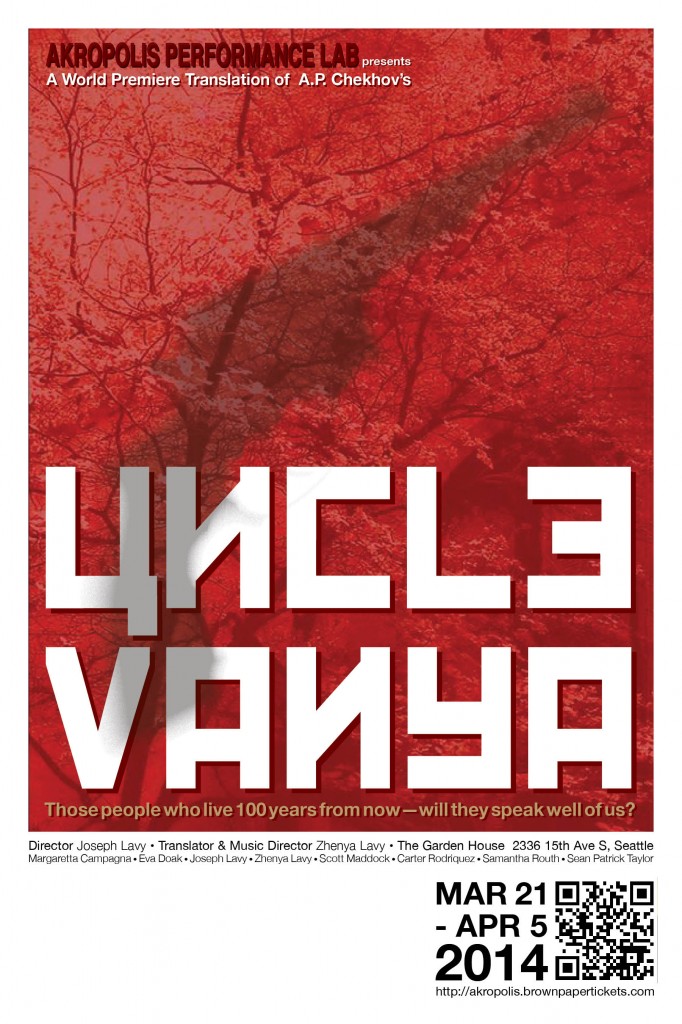 Advance: $20 general / $15 students & seniors via Brown Paper Tickets (1-800-838-3006, http://akropolis.bpt.me)
Door: $22 general / $17 students & seniors (cash or credit). Onsite sales begin 30 minutes before curtain.
CAST:
DIRECTOR: Joseph Lavy, APL co-artistic director
MUSIC DIRECTOR & PRODUCER: Zhenya Lavy, APL co-artistic director
ASSISTANT DIRECTOR: Annie Paladino
STAGE MANAGER: Jeanette Sanchez-Izenman

SOMETIMES THE WORK PICKS YOU
It started as a Sunday Salon reading… a particularly well-cast Sunday Salon reading. By evening's end, with the play read and discussion winding down, there was agreement in the room: Akropolis needed to produce Uncle Vanya as its next major work. But APL has traditionally produced original or highly adapted works. What would it mean for APL to bring Chekhov's classic to life and make it their own? A new translation with the raw vitality of the Russian. A musical setting to complement and comment upon these "Scenes from Country Life." An intimate staging to bring audiences into immediate confrontation with the humorous and tragic in Vanya's human condition. We open almost a year to the day since that reading. Come discover what the year has wrought!